Audiobook Review: Everything, Everything by Nicola Yoon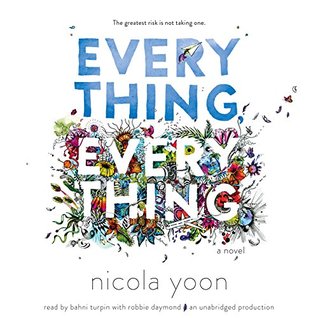 Title:
Everything, Everything
Author:
Nicola Yoon
Publisher:
Listening Library
Source:
Borrowed
Synopsis:
My disease is as rare as it is famous. Basically, I'm allergic to the world. I don't leave my house, have not left my house in seventeen years. The only people I ever see are my mom and my nurse, Carla.
But then one day, a moving truck arrives next door. I look out my window, and I see him. He's tall, lean and wearing all black—black T-shirt, black jeans, black sneakers, and a black knit cap that covers his hair completely. He catches me looking and stares at me. I stare right back. His name is Olly.
Maybe we can't predict the future, but we can predict some things. For example, I am certainly going to fall in love with Olly. It's almost certainly going to be a disaster.
Review (with spoilers ahead!):
"Everything's a risk. Not doing anything is a risk. It's up to you."
I heard SO MUCH about Everything, Everything before I stumbled upon an audiobook of it in the library. In a way, the hype made me wary; I didn't want to have ridiculous expectations going into a book, though by this point it couldn't be helped. The good news is that many parts of the story lived up to those expectations, but there were also parts that didn't quite hit the mark for me.
Maddy won me over instantly. It's difficult not to like her given the way she's made the best out of what is a terrible existence. I'm an introvert who enjoys being alone at home, but I honestly don't know how if I could keep my chin up if I could never step foot outside of my house. I love the snippets we get from her made-up dictionary and the books she's read. I was rooting for her to fall in love with the world the whole time.
The strange thing is, I never quite rooted for her to fall in love with Olly. Olly is an intriguing character on his own, given his family background and his personality, and I like the contrast he provides to Maddy's world. Still, despite the fact that their romance is the catalyst for change in Maddy's life, the book fell flat for me whenever they were together. This is most likely because I was highly skeptical about her sickness, so the glow of their forbidden interactions was pretty much lost on me.
Despite the aforementioned skepticism, the highlights of this book come in the second half. The most intriguing part for me was how Maddy would cope with the aftermath of certain revelations. Her mother is perhaps the most fascinating character in the book, actually, and their relationship is one that gives me the most to ponder.
This was the second audiobook I'd ever listened to. I think having her voice in my head help me connect to Maddy more than I would have with a paperback. At the same time, there is something incredibly awkward about listening to a love scene. All in all though, it was an enjoyable audiobook experience.
Have you read Everything, Everything?
How do you think you'd cope with never being able to leave your house?

Reading this book contributes to the following challenges:
Goodreads Challenge
Around the World 2016
#DiverseReads2016 Challenge