Review: Cress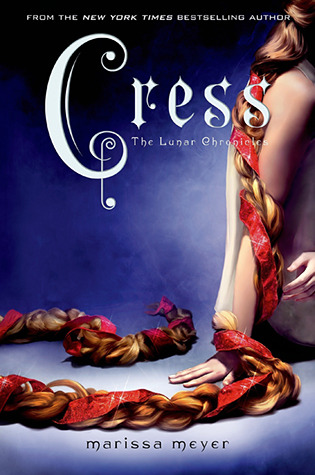 Title:
Cress
Author:
Marissa Meyer
Publisher:
Feiwel and Friends
Source:
Readings, Carlton, Australia
Synopsis:
In this third book in the Lunar Chronicles, Cinder and Captain Thorne are fugitives on the run, now with Scarlet and Wolf in tow. Together, they're plotting to overthrow Queen Levana and her army.
Their best hope lies with Cress, a girl imprisoned on a satellite since childhood who's only ever had her netscreens as company. All that screen time has made Cress an excellent hacker. Unfortunately, she's just received orders from Levana to track down Cinder and her handsome accomplice.
When a daring rescue of Cress goes awry, the group is separated. Cress finally has her freedom, but it comes at a high price. Meanwhile, Queen Levana will let nothing prevent her marriage to Emperor Kai. Cress, Scarlet, and Cinder may not have signed up to save the world, but they may be the only hope the world has.
Review:
⋆⋆⋆⋆⋆
"I promise, I will not let you die without being kissed."
As always, I love the characters that populate this series. At first glance, Cress isn't the kick-ass lady that Scarlet and Cinder are, but I enjoyed the fact that she was romantic and happy to be the damsel-in-distress. I also enjoyed her growth over the course of the book. I hope she'll remain romantic and dreamy at heart though, as much as I want her to be able to match Thorne's wit a bit more. (This is the point where I have to admit I secretly shipped Thorne/Cinder). Meyer has all sort of leading ladies in this series, and I love them because they are each so different; each has her own strengths and weaknesses. Speaking of Thorne - he shone for me in this book. His gesture for Iko sealed my love for him.
The plot feels a little slower here. There was a lot of journey-ing and waiting and searching, but it is necessary before we start the revolution (!!). I love that we got a glimpse of Luna here though, and I'm looking forward to see more of it. I have one question though: the summary on the back of my copy says the man Levana loves is plotting her downfall, but I couldn't find any mention of him anywhere? Unless it meant Kai, but Levana doesn't love him? I feel like I missed something.
In any case, I don't think I've ever enjoyed a series so much and so completely since Harry Potter, and I can't wait to see where this group of fugitives head to next.