Top Ten 2016 Novels I Am Looking Forward To
Top Ten Tuesday is an original meme hosted by The Broke and The Bookish. Click here for information.
I am actually terrible at knowing what books are coming out when, but for this week's TTT I have tried to do a little bit of research. The result is that I'm quite excited about the following releases in 2016! I took the debut part out of the prompt because I am terrible at recognising whether an author is new or simply new to me. Starting to feel like maybe I live under a rock when it comes to the world of YA...

Anyway, I am going to avoid listing authors I'm familiar with. Onto the list!
1. A Study in Charlotte.
I adore Sherlockian stories with a twist (which is part of why I love
Elementary
), and the premise of this book sounds like it would be so much fun!
2. Rebel of the Sands.
A fantasy novel with an Arabian setting? Yes please. That pretty cover was the first thing to catch my eye, and this line in the blurb sold it to me:
"She's more gunpowder than girl—and the fate of the desert lies in her hands."
3. The Forbidden Wish.
Speaking of Arabian settings, this novel is one I immediately put on my TBR as soon as I saw the info for it online. I have yet to read a retelling of Aladdin, so this would be interesting!
4. The Riders of Thunder Realm.
No
cover is available on Goodreads for this yet, but I caught a peek on Twitter. It's just such a weird idea that I
have
to give it a shot. It "combines that adventure of Jurassic World with the incredible world-building of Game of Thrones." Basically, YA with dinosaurs.
5. Sword and Verse.
This story set in a world where literacy is a capital offense, and as a bookworm, I know I just have to give this a shot.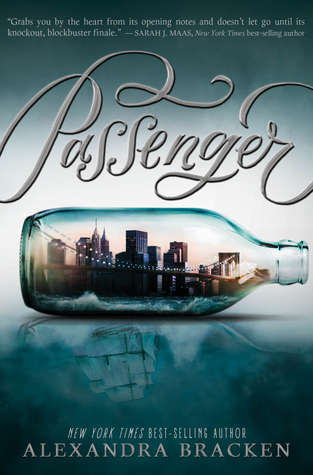 6. Passenger.
I've been seeing this book mentioned a lot around the blogosphere, and I'm so intrigued! It's a time-travel mystery from the sound of synopsis, and I'm all for a well-written book in those genres.
7. The Leaving.
"Six were taken. Eleven years later, five come back--with no idea of where they've been." I went 'whaaat?' when I read that, so I'm definitely going to check it out when it comes out!
8. Mirror in the Sky.
I also do badly in science subjects, but I'm still fascinated by science fiction, particularly the idea of alternate universes. This book is all about the discovery of an alternate Earth, and the dawn of a new era of scientific history, so I need to read it already!
9. Special.
Takes place in a future where corporation controls everything from your DNA to your career. I've been on the lookout for a great dystopia, and this sounds promising!
10. How Not to Disappear.
It's been a while since I've spotted a contemporary that really interests me. This book sounds lovely though, and I'm curious to see how it will portray a woman in the early stages of dementia.
What 2016 releases are you looking forward to?