Buddy Review: The Queen of the Tearling by Erika Johansen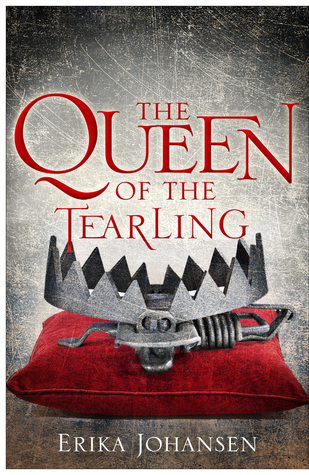 Title:
The Queen of the Tearling
Author:
Erika Johansen
Publisher:
Bantam Press
Source:
Bought
Synopsis: Her throne awaits . . . if she can live long enough to take it.
It was on her nineteenth birthday that the soldiers came for Kelsea Glynn. They'd come to escort her back to the place of her birth – and to ensure she survives long enough to be able to take possession of what is rightfully hers.
But like many nineteen-year-olds, Kelsea is unruly, has high principles and believes she knows better than her elders. Unlike many nineteen-year-olds, she is about to inherit a kingdom that is on its knees – corrupt, debauched and dangerous.
Review:
"Tear Queen, you'll either be dead within a week or you'll be the most fearsome ruler this kingdom has ever known. I see no middle ground."
The Queen of the Tearling
first came to my attention when Emma Watson was first linked to the movie adaptation. Any book that she endorses must be pretty good, right? It's a big book to tackle though, and I was lucky to have
Emily @ Midwestern Book Nerd
to read it with me. There was certainly a lot to discuss! This review is best read together with her post, so check that out too!
Given she was the eponymous character of the novel, I was looking forward to getting to know Kelsea. We meet her right away, and I was intrigued. She's brought up by adoptive parents in isolation, hidden away from the world, with a destiny to fulfill and a price on her head. At first she seems a little lost, which I loved because how many people would feel confident as their life was about to change? But then she started to grow into her own skin and I loved it even more.
Conviction and a conscience, I think, are Kelsea's strongest qualities, and I'm curious to see how it would serve her as a queen in the next installment. In this one, she's surrounded by other characters who teach and challenge her as a queen, and they're all fascinating in their own ways. Even the villains were intriguing; it's always important to me that the villains are convincing, and we see all kind of villainous behaviours in this book that made me ponder what makes someone evil:
There was also the Fetch, the very fetching murderer with an interest in Kelsea, and had fun venturing some guesses with Emily about his true identity. His identity wasn't the only mystery we encounter in the book too. There's the mystery about Kelsea's sapphire, the identity of her father, the death of her mother, the Red Queen... I can see why the book had to be that thick!
There was never a dull moment though. We swing from one problem to the next as Kelsea figures out how to lead a country. She's got her priority straight, this Queen, and I can't wait to read more of her journey to claim her place in history.
It has to be noted that this is a book for older readers. Be prepared for brutality and violence if you want to read this book!
Let's talk!
Have you read this book? What did you think?
If not, does this sound like something you'd read?
What do you think makes a person evil?


Reading this book contributes to the following challenges:
Goodreads Challenge
The Backlist Books Reading Challenge
#RockMyTBR Challenge