Review: Go Set a Watchman by Harper Lee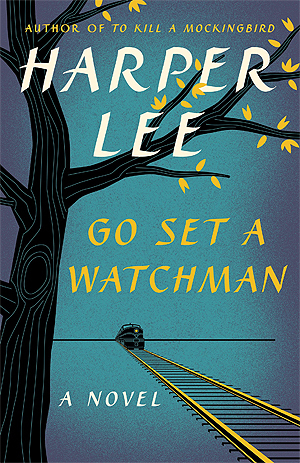 Title:
Go Set a Watchman
Author:
Harper Lee
Publisher:
HarperCollins
Source:
Borrowed
Synopsis:
Maycomb, Alabama. Twenty-six-year-old Jean Louise Finch--"Scout"--returns home from New York City to visit her aging father, Atticus. Set against the backdrop of the civil rights tensions and political turmoil that were transforming the South, Jean Louise's homecoming turns bittersweet when she learns disturbing truths about her close-knit family, the town and the people dearest to her. Memories from her childhood flood back, and her values and assumptions are thrown into doubt. Featuring many of the iconic characters from To Kill a Mockingbird, Go Set a Watchman perfectly captures a young woman, and a world, in a painful yet necessary transition out of the illusions of the past--a journey that can be guided only by one's conscience.
Review:
Here's the reason I love
To Kill a Mockingbird
: it's a world away from mine, and yet it felt universal. I might have to read a sentence twice every now and again to understand that Southern grammar I'd only ever heard in movies, but I understood and related to the story and the characters. Go Set a Watchman never struck that chord with me, and I spent a good amount of the reading experience lost and confused.
I could not shake the feeling that this is a manuscript not yet ready to be published. The point of view kept switching from third to first without warning, and the plot didn't start until about a third into the book. The new cast of characters didn't have the same spark Mockingbird's had, and I couldn't care for any of them, least of all for her uncle by the end of the book. I still could relate to Jean Louise, particularly in that sense of coming home a different person and seeing home in a new, not-so-flattering, light. At the same time, the connection was not as strong as before, and I'll get to why in a minute.
We can't talk about the characters without mentioning Atticus. I'm sure I wasn't the only one to feel hugely let down to discover his flaws. (Is it a spoiler to spell out what they are? Given how much they've been discussed, probably not, but I'll refrain anyway.) A friend of mine argued that it was realistic and it made sense given the time period he lived in, and in retrospect I can see the truth in that. Still, it was upsetting, more so because I couldn't quite understand his argument.
I think that's the heart of my problem with this book: I didn't understand the dialogues. The arguments, every attempt Jean Louise makes to understand Atticus' actions, are basically discussions about the law. There are references to American literature and political events that completely went over my head. Every time I had to google something, I was pulled out of the story that much further. I didn't have this issue with
Mockingbird
, probably because Scout wouldn't have understood those references either and so they didn't come up. Someone with more extensive knowledge of American civil rights history and literature might find the book more enjoyable than I did.
At the end of the day, this book did not work for me. It doesn't affect my feelings for
Mockingbird
, but I wouldn't recommend this if you view Atticus Finch as a book hero.
Let's talk!
Have you read Go Set a Watchman? If so, what did you think?
If not, would you read it?


Reading this book contributes to the following challenges:
Goodreads Challenge
Around the World 2016
The Backlist Books Reading Challenge
#DiverseRead2016 Challenge